Master of Science in Environmental Science
Cleveland State University's Master of Science degree in Environmental Science is offered by the Department of Biological, Geological, and Environmental Sciences (BGES) as one of three interdisciplinary graduate programs in the Environmental Studies Program. The degree program prepares students for a wide range of professional careers that require knowledge of biology, chemistry, or earth sciences in order to address environmental issues. The program is open to both full-time and part-time students.
The program is administered by the department's graduate faculty, which includes Cleveland State faculty, research scientists at the Lerner Research Institute of the Cleveland Clinic, and several Cleveland State University adjunct faculty members from other local institutions.
The MS degree program, with its research thesis focus, prepares students conceptually and technically for careers in applied or basic research in academic, government, or business settings.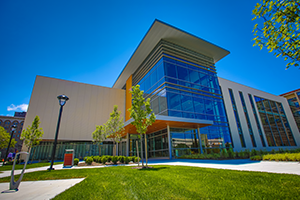 Department of Biological, Geological and Environmental Sciences
Phone: 216.687.2440
Email: bges@csuohio.edu
Admission Requirements
Application Form

Application Fee

Undergraduate Transcripts

Two letters of recommendation

From individuals who are familiar with your work and can assess your academic preparation, abilities, and accomplishments. These may be from previous instructors, supervisors or professional colleagues who are familiar with your recent activities.

Scores for the Graduate Record Examination (GRE) general test (must average at the 50th percentile or above) 

Students must have a minimum of one year of calculus, one year of physics, one year of biology, geology, or chemistry, and one term of a computer course or demonstrated proficiency in computer usage. 

Bachelor's degree is preferred in a science appropriate to the student's area of concentration (biology, chemistry, or geology)
*Admission to the program is based on a combination of a candidate's undergraduate GPA and the graduate admission test score.  
-International students are required to have met at least one of the following English language proficiency requirements:
TOEFL iBT (Internet-Based): 78 & at least 17 in each section

TOEFL PBT (Paper-Based): 550

IELTS: 6.0 and at least 5.0 in each section

PTE (Pearson's Test of English): 50

iTEP: 3.8
Admission Deadlines
All applications must be submitted and complete on the following application deadline dates:
Domestic Students
International Students

Fall Semester – January 15th
Spring Semester – October 15th
*Fall & Spring admission only.
BIO 500 - Graduate Orientation

BIO 540 - Biostatistics or equivalent graduate-level statistics course

BIO 595 - Environmental Seminar
CVE 450 - Environmental Technology

LAW 671 Environmental Law or

UST 652 - Environmental Policy and Administration

ENG 509 - Technical Writing
Each student must complete six credit hours of course work that provides experience in field research. This requirement may be met by courses that emphasize field methods (BIO 651 or BIO 653) or by supervised, individual thesis research conducted in a field setting (BIO 691 or BIO 695).
BIO 651 - Advanced Research in Field Biology or

BIO 653 - Advanced Research in Field Biology or

BIO 691 - Laboratory Research or

BIO 695 - Research (M.S.)
Each student formulates an individual plan of study in consultation with the Major Advisor and the Advisory Committee. The student chooses one of three areas of concentration: Environmental Biology, Environmental Chemistry, or Environmental Earth Sciences. The plan of study must include at least nine credit hours of course work in the area of concentration, as well as any additional elective courses needed to fulfill degree requirements.
Environmental Biology
BIO 454 - Ecology

BIO 455 - Ecology Laboratory

BIO 504 - Biological Chemistry

BIO 516 - Microbiology

BIO 517 - Microbiology Lab

BIO 656 - Environmental Physiology
Environmental Chemistry
CHM 502 - Biochemistry I

CHM 504 - Environmental Chemistry

CHM 506 - Environmental Chemsitry Laboratory

CHM 531 - Advanced Organic Chemistry

BIO 504 - Biological Chemistry
Environmental Earth Sciences
EVS 506 - Ecosystem Science

EVS 523 - GIS Applications to the Field Sciences

GEO 445 - Hydrology Lab

EVS 560 - Geomorphology

CVE 540 - Soil Stabilization and Decontamination

CVE 564 - Groundwater Hydrology

EVS 524 - Intro to GIS & Remote Sensing
Additional Courses or Reseach (2 Credits)
THESIS OPTION
EVS 691 - M.S. Research in Environmental Science or

EVS 695 - M.S. Thesis Research in Environmental Science
NON-THESIS OPTION
Electives

EVS 690 - Non-Thesis M.S. Exit Project
Did You Know?

Employment of environmental scientists and specialists is projected to grow 11 percent from 2016 to 2026, faster than the average for all occupations.
Career Outcomes
Graduates are working in g

overnmental laboratories, p

rivate laboratories, o

ffices, and field work positions.

Graduates can find positions including: environmental technician, professor, environmental scientist, environmental project manager, and environmental engineer. 

These are some of the local companies that are hiring CSU grads: 

Intertek, CT Consultants, STV, Harrison Consulting Solutions, US Department of the Navy, and ITS.