Master of Music
Cleveland State University's graduate degree program in music offers specializations in Composition, Music Education and Performance as well as three post-graduate programs: Professional Studies in Music Performance Certificate Program, K-12 Multiage License in Music Education - Post Baccalaureate Non-Degree Program and Post Baccalaureate Equivalency Program in Music Therapy.
The School of Music offers outstanding facilities. A state-of-the-art building houses two performance halls, three large rehearsal halls, two chamber music rehearsal rooms, four electronic music/computer laboratories, and dozens of practice and specialized teaching spaces. Cleveland is one of the most outstanding centers for music in the United States, and students have many opportunities to observe and study with some of the finest performers in the world. A number of members or former members of the Cleveland Orchestra teach at the University, and Cleveland State vocal ensembles perform annually with the Orchestra. The Cleveland Contemporary Players, which is devoted to performing contemporary music, is in residence at the Cleveland State School of Music. Composition students are able to have their works performed by the Cleveland Contemporary Players. Opportunities to perform early music, both vocal and instrumental, are available through Collegium Musicum and through private study. The annual Thyagaraja (Aradhana) Festival at Cleveland State is the largest international festival of Indian music held outside of India.
Through its core and specialized courses, Cleveland State's graduate music program is designed to provide solid musical training and to prepare students for careers in their area of specialization.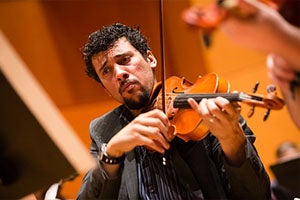 School of Music
Phone: 216.687.2033
Admission Requirements
Application Form
Application Fee
Undergraduate Transcripts

Minimum 2.75 Undergraduate GPA
The School has different entry requirements for each area of specialization:
Performance: An audition is required prior to admission for all students who wish to specialize in performance. In the audition, which should last fifteen minutes or longer, the student must demonstrate performance proficiency with some stylistic breadth. An audio tape or videotape may be provided in lieu of a live audition, with prior approval of the School.
Composition: Applicants must submit a portfolio of representative works for evaluation.
Music Education: Two letters of recommendation from supervisory personnel who can attest to the applicant's teaching ability are required.
-International students are required to have met at least one of the following English language proficiency requirements:
TOEFL iBT (Internet-Based): 78 (including at least 20 in reading, 21 in listening, 17 in writing, and 20 in speaking)
TOEFL PBT (Paper-Based): 550
IELTS: 6.0 and at least 5.0 in each section
PTE (Pearson's Test of English): 50
iTEP: 5.0
Admission Deadlines
All applications must be submitted and complete on the following application deadline dates:
Domestic Students
International Students

Fall Semester – May 15th
Spring Semester – October 15h
Summer Semester – March 15th
MUS 595 - Music History Seminar
MUS 601 - Approaches to Music Research
MUS 602 - Analytical Techniques
MUS 540 - Music Performance and Pedagogy
MUS 521 - Composition Forum
MUS 527 - Computer Music and Midi I
MUS 528 - Computer Music and Midi II
MUS 620 - Composition
MUS 635 - Composition Recital
MUS 689 - Composition Thesis
MUS 554 - Foundations and Principles of Music Education
MUS 584 - Seminar in Music Education
MUS 611 - Research Techniques In Music Education
MUA 6-- Applied Music
MUS 679 - Research Projects In Music Education
         or
MUS 699 - Thesis
Electives: 2 credits
Instrumental Track
MUA 601-682 Applied lessons (to be taken as 2 courses over 2 semesters)
MUA 603 - Recital Preparation (to be taken as 2 courses over 2 semeseters)
MUS 632 - Solo Recital
MUA 606 - Repertoire
MUS 501 - University Chorus
MUS 502 - Band/Wind Ensemble
MUS 504 - University Orchestra
MUS 505 - CSU Chorale
MUS 507 - Jazz Ensemble
MUS 506 - Chamber Ensemble
Electives: 4 credits
Vocal Track
MUA 621-622 Applied lessons (to be taken as 2 courses over 2 semesters)
MUA 603 - Recital Preparation (to be taken as 2 courses over 2 semesters)
MUS 632 - Solo Recital
MUA 606 - Repertoire
MUS 501 - University Chorus OR
MUS 505 - CSU Chorale OR
MUS 508 - Opera Workshop
Electives: 4 credits
Keyboard Track
MUA 601-682  Applied lessons (to be taken as 2 courses over 2 semesters)
MUA 603 - Recital Preparation (to be taken as 2 courses over 2 semesters)
MUA 606 - Repertoire
MUS 632 - Solo Recital
MUS 506 - Chamber Ensemble AND/OR
MUS 516 - Collaborative Piano and Accompanying
MUS 576 - Extended Workshop (to be taken over two semesters)
Electives: 3 credits
A student's graduate program culminates in a suitable exit project (e.g., a thesis or a recital) arranged through a principal advisor and reviewed by a committee of three faculty members. A student in music education may complete three suitable papers in lieu of a thesis.
A comprehensive examination is required for all candidates. The examination serves as an opportunity for both the candidate and the School to assess the student's ability to synthesize the content of the degree, both in breadth and in the area of specialization
Did You Know?

Employment of musicians and singers is projected to grow 6 percent from 2016 to 2026
Career Outcomes
The program is an excellent foundation for doctoral study.
Students have gone on to careers in composition, arranging, conducting, choral music, electronic music, musicology, criticism, performance, library science, and teaching at the university level and in elementary and secondary schools. 
These are some of the local companies hiring CSU grads: Cleveland Institute of Music, Cleveland Heights School District, Live Nation, El Sistema, and The Cleveland Orchestra.