Master of Science in Nursing/Master of Business Administration
Cleveland State University's MSN/MBA is a dual-degree program offered by the Monte Ahuja College of Business Administration and the School of Nursing. This joint program prepares Registered Nurses for a career in healthcare management and leadership. In keeping with the rules and regulations of the Ohio Nurse Practice Act, the program does not prepare nurse practitioners or clinical nurse specialists; graduates are not eligible to apply for a certificate of authority in the State of Ohio.
The School of Nursing is a member of the Council of Baccalaureate and Higher Degree Programs, and the American Association of Colleges of Nursing.  The graduate program in Nursing is accredited by the Commission on Collegiate Nursing Education (CCNE). The graduate business programs of the Monte Ahuja College of Business are accredited by AACSB International, the Association to Advance Collegiate Schools of Business.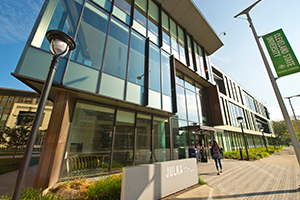 School of Nursing
Phone: 216.687.3598
sonadvising@csuohio.edu
MBA & Graduate Programs
Phone: 216.687.3730
graduatebusprograms@csuohio.edu
Admission Requirements
Application Form
Application Fee
Undergraduate Transcripts

Minimum 3.00 Undergraduate GPA
Undergraduate degree in Nursing

Personal Essay

Submission of a 3-5 page typed essay explaining why the applicant wants to earn an MSN/MBA; how such a graduate degree fulfills the applicant's personal and professional goals; and the knowledge, skills, attitudes, and competencies that the applicant hopes to develop during the education process

An active license as a Registered Nurse in the applicant's U.S. state of residence
GMAT or GRE Scores
-International students are required to have met at least one of the following English language proficiency requirements:
TOEFL iBT (Internet-Based): 78 (including at least 20 in reading, 21 in listening, 17 in writing, and 20 in speaking)
TOEFL PBT (Paper-Based): 550
IELTS: 6.0 and at least 5.0 in each section
PTE (Pearson's Test of English): 50
iTEP: 5.0
Admission Deadlines
All applications must be submitted and complete on the following application deadline dates:
Domestic Students
International Students

Fall Semester – March 1st
NUR 503 - Evidence-Based Practice
NUR 505 - Introduction to Demography & Epidemiology: A Nursing Perspective
NUR 506 - Theoretical Foundations of Population Health
NUR 508 - Advanced Assessment, Pathphysiology, and Pharmacology
NUR 600 - Information Systems in Healthcare
NUR 602 - Health Care Policy
NUR 605 - Population Assessment & Intervention
NUR 606 - Capstone Practicum
ACT 501 - Financial Accounting
ACT 600 - Managerial Accounting
ECN 503 - Economic Concepts
FIN 501 - Financial Management
GAD 515 - Communication for Managers
HCA 601 - Financial Policies
HCA 640 - Health Care Law and Ethics
HCA 660 - Integrative Business Strategy
MBA 600 - Team Dynamics
MBA 602 - International Business
MBA 603 - Management of Innovation and Technology
MKT 501 - Marketing Management
MKT 601 - Marketing Strategy
OSM 511 - Operations Management
Ethics elective (3 credits)
As a dual degree, the MBA program will accept nine hours of core MSN courses as elective credit, and the MSN program will accept ten hours of core MBA courses as elective credit.
Did You Know?

Employment of medical and health services managers is projected to grow 20 percent from 2016 to 2026.
Career Outcomes
Coursework focuses on developing advanced knowledge, competencies, and skills in the care of populations and lays a foundation for the nurse's growth into a competent business manager. 
Graduates are prepared to utilize skills in demography, epidemiological assessment and data analysis, research and evaluation, data projections, cost-benefit analysis, and the application of nursing and business theories and ethics in the design, implementation, management, and evaluation of health programs, departments, and facilities. 
These are some of the local companies that are hiring CSU grads: Getinge, Medical Mutual, University Hospitals, Cleveland Clinic, Clinical Management Consultants, Change Healthcare, Bank of America, and  The MetroHealth System.