Preparing to Attend a Grad School Fair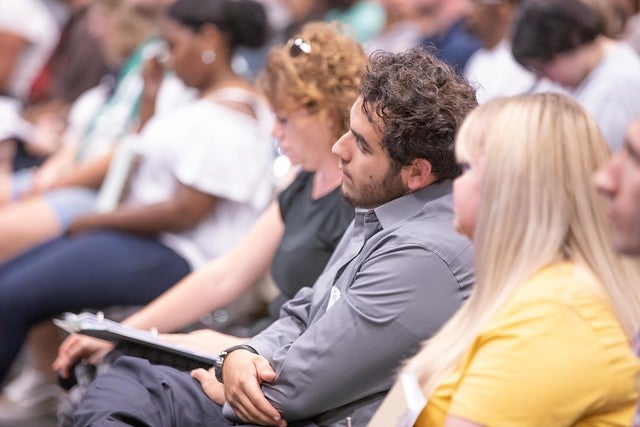 Prospective students can feel over-whelmed by the idea of a Grad School Fair. What programs will there be? How will I know what to say? How should I dress? We get questions from soon-to-be students all the time, so we've put together a few pointers for attending Grad School Fairs.
Look over the programs ahead of time. It's important to know what the requirements are and if you think you'd be reasonably able to complete them, and if you have the correct requirements for application. You can save yourself time at the fair by only getting info about the programs you're qualified for and most interested in.
Prepare questions for faculty. Look into faculty bios in the departments you're most interested in and start thinking of things you'd like to ask about – areas of expertise, research, what the classroom format is like in their courses. You will have an opportunity to get these things directly from professors, so don't waste it!
The dress code is casual and comfortable. You're not headed into a job interview. The professors will not be deciding on your application on the spot. Look your best, but wear comfortable shoes and clothes so that you'll be able to make it around to everything you're interested in.
Get there early to navigate parking and an unfamiliar campus. Give yourself enough time to find everything you're going to need to find so you can focus on the event itself.
Don't forget that Cleveland State University has a Grad School Fair coming up on November 12th from 11:30 – 1:30 at the Student Center Ballroom SC, Rm 311, 2121 Euclid Ave. with over 150 programs represented, and a chance to talk to faculty about requirements, financial aid, and more.

You can register Here